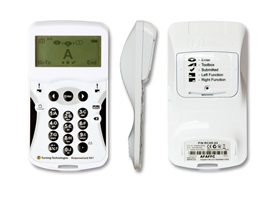 TurningPoint clickers are used in Georgia Tech's classrooms.
FAQs
Training
At the beginning of each semester, the Center for Teaching and Learning (CTL) coordinates with Turning Technologies to offer group training for faculty members, postdocs, and teaching assistants. The schedule will be announced prior to each semester. Check the learning technology training and workshops page for current offerings. Departmental or individual training is also available. Please fill out a request form if you would like to schedule a training or consultation.
Support
For assistance, select one of the following options:
For CTL-related support, submit a service request to clickers@gatech.edu. Once the email is received, a ticket will be generated and assigned to one of the support team members. Or, contact Chaohua Ou, Assistant Director of Learning & Technology Initiatives, at 404.385.4812.
For Turning Technologies customer support, call 1.866.746.3015 (7 a.m. to 9 p.m., EST, Monday through Friday).
For classroom technologies support due to difficulty using the clicker system on the podium computer in classrooms, call 404.894.4669 or submit a ticket.
Additional Resources