Teaching and Learning Buzz, a monthly podcast from the Center for Teaching and Learning at Georgia Tech, highlights teaching and learning topics important to the Tech community. Each month, we'll talk to campus and visiting experts as we explore challenging questions related to teaching and learning and share practical strategies for helping our students (and colleagues) learn and thrive at Georgia Tech and beyond.
Special Episodes on Remote Teaching during COVID-19 Disruption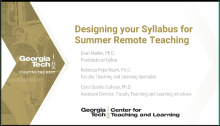 As part of the Georgia Tech Remote Teaching Academy in Spring 2020, CTL led faculty in a session using the backwards design framework for course development to help faculty move face-to-face courses online for the summer. This episode shares the audio of that live session. While we are looking ahead to fall, this session offers effective and usable tips for designing any syllabus with a focus on student learning objectives.
For all resources related to this workshop, visit the CTL blog. You will also find the video of the full session on the GTRTA Canvas page.