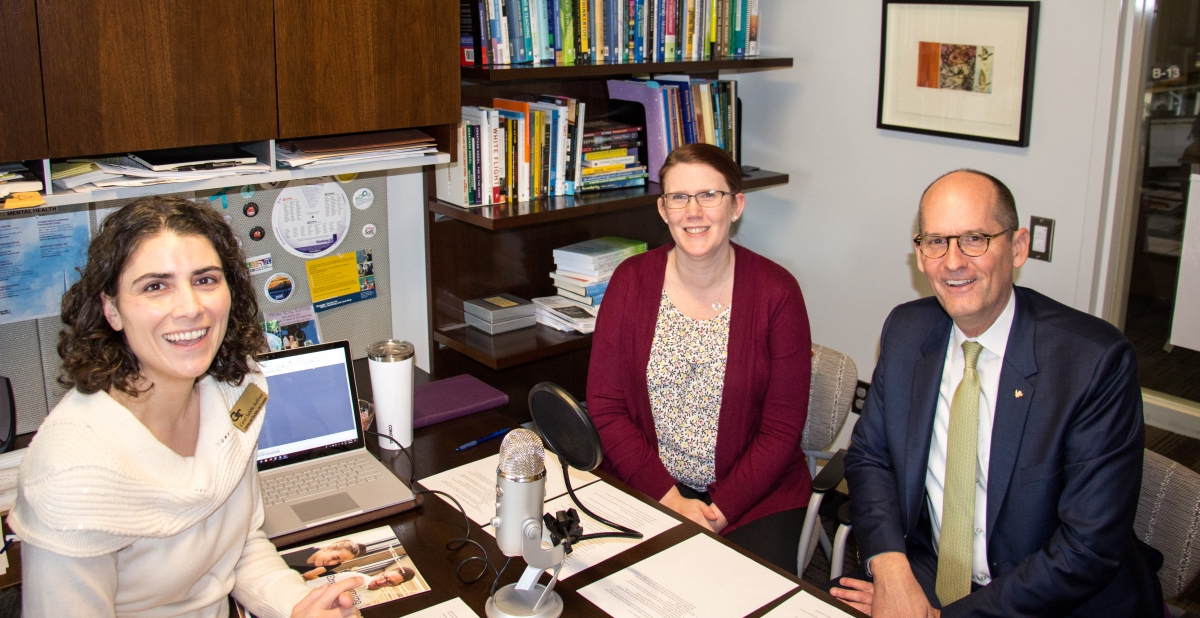 In Episode 2 of the Georgia Tech Center for Teaching and Learning podcast, Carol and Rebecca chat with Dr. Steve McLaughlin, Professor, Dean, and Southern Company Chair of the College of Engineering and co-writer of the Inside Higher Ed Opinion message of "A Friend at the Front of the Room", to discuss his commitment to Georgia Tech students' mental health and how it is affected by their class environments. They also explore how faculty can become more involved in the facilitation of student mental health by creating a welcoming, but still rigorous, academic environment in their classrooms and offices. Check out the episode on Soundcloud and transcript and show notes below.
Transcript (PDF version)
Show Notes
Episode 1: The inaugural episode of Teaching and Learning Buzz explores the beneficial and harmful attributes of different grading styles with special guest Dr. Al Ferri.

Christie Stewart, PhD: Academic Professional in the School of Applied Physiology at Georgia Tech.

Cara Appel-Silbaugh, PhD: Former Dean of Students at Georgia Tech and current Dean of Students at University of Massachusetts.
Robert (Bobby) Braun, PhD: Dean of the College of Engineering & Applied Science at the University of Colorado and co-writer of the mental health piece.

John Stein, PhD: Dean of Students and Vice President for Student Life at Georgia Tech.
Referenced Materials and Resources
Health Initiative Survey: Survey data collected in 2018 about mental health and well-being of Georgia Tech undergraduate and graduate students.

Graduate Students Survey: Survey data collected by the Graduate Student Government Association on mental wellness of graduate students in 2016.