Teaching with Technology Spotlight is a learning technology initiative that highlights a specific instructional technique, best practice, or innovation related to utilizing technology to enhance teaching and learning at Georgia Tech. It provides participants an opportunity to learn directly from experts and/or individuals who have successfully implemented technology in their own classroom.
During this session participants will explore ways in which digital tools and pedagogies have been successfully used and can be adopted for use in their own courses.  The topic of each Spotlight is different and related to the current trends, innovations, and issues facing Educators today, so be sure to check back often to see what the next Spotlight is about.
We invite individuals from across campus to recommend technologies and/or individual faculty members whom they feel should be highlighted through our Teaching with Technology Spotlight program. Please contact Chaohua Ou with your recommendation.
For more information about Learning Technology at Georgia Tech, please visit our webpage.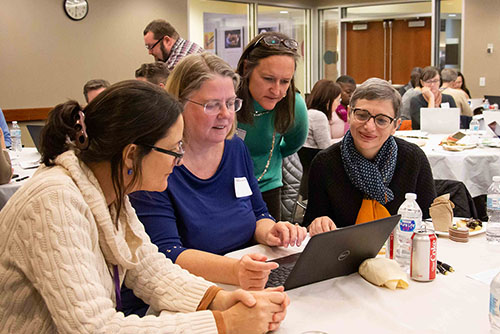 Teaching with Technology Spotlight in Fall 2021
Serving as an OMS TA in a Massive Online Course: Words from the Wise(r)
Invited Speakers: Christopher Poch, Shahrokh Shahi, and Tohid Shekari
Teaching with Technology Spotlight in Spring 2020
Wikipedia as a Teaching Tool That Empowers Students
Invited Speaker: Jennifer Glass, School of Earth and Atmospheric Sciences
Teaching with Technology Spotlight in Fall 2019
Video Based Quizzing
Invited Speaker: Tatiana Rudchenko, Scheller College of Business
Teaching

 with Technology Spotlight in Fall 2018
Developing and Using Mobile Educational Apps: A Teacher's Perspective
Invited Speaker: Julián J. Rímoli, School of Aerospace Engineering
A New Solution to the Teaching Conundrum of What to Do with Student Writing
Invited Speaker: Kari Davis-Nozemack, Scheller College of Business
Teaching with Technology Spotlight in Spring 2018
Flipped Learning in Large Chemistry Classes
Invited Speaker: Carrie Shepler, School of Chemistry and BioChemistry
Leveraging Peer Feedback to Support and Enhance Learning at Scale
Invited Speaker: Gabriel Perez and David Joyner, College of Computing
Teaching with Technology Spotlight in Fall 2017
Invited Speakers: 

Chrisy

 Spencer, Jung 

Choi

, and Shana Kerr, School of Biological Sciences