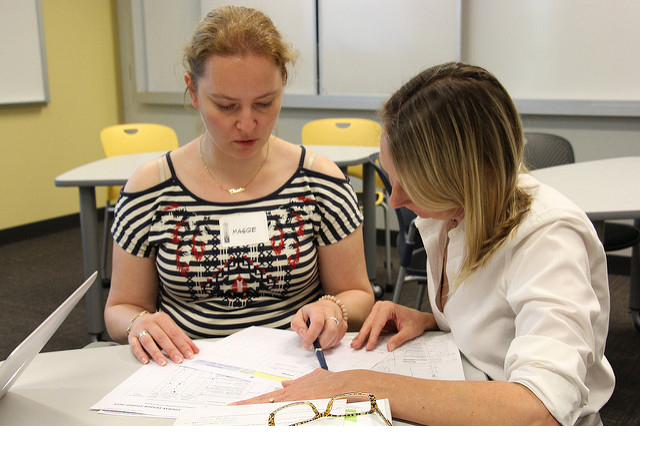 Consultations and observations provide graduate students and postdocs an opportunity for individualized help from the Center for Teaching and Learning. We offer one-on-one consultations about both teaching and the academic job search. Through a classroom observation, a CTL representative will visit your class and customize your feedback to provide you with greater insight into your teaching.
If you are interested in participating in either of these services, please find the appropriate request form within the information provided below. Submit your request at least 2 weeks before your preferred consultation or observation date.  Note: the TA and Future Faculty team is offering your choice of remote or face-to-face observations and consultations.
One-on-One Consultations
Teaching assistants, graduate student instructors, and postdoctoral scholars can request a consultation to discuss teaching. During the consultation, a CTL faculty member works with you to explore your specific areas of interest and support you in using evidence-based resources to enhance your teaching.
Common teaching consultation topics include:
Instructional communication
Grading, including how to create and use rubrics
Classroom management
Motivating students and capturing interest
Using technology to promote learning
Designing a class activity or lesson plan
Writing learning goals
Teaching/managing laboratory classes
Online teaching
Likewise, any graduate student or postdoctoral scholar embarking on an academic job search can request a consultation to review your application packet or discuss the interview or job talk. Common academic job search consultation topics include:
How to conduct an academic job search
How to write a CV, cover letter, teaching statement, research statement, and diversity statement
How to prepare for an academic interview
How to present a job talk
To request a consultation, please complete the consultation request form. Most consultations can be accommodated within 2 weeks of receiving your request.
Classroom Observations
Graduate students and postdoctoral scholars may request a classroom observation from a representative from the Center for Teaching and Learning. Classroom observations provide confidential, formative feedback, and are conducted by either a CTL faculty member or an experienced, trained Graduate Teaching Fellow. Research on the benefits of receiving feedback about your teaching reveals that those receive feedback experience less anxiety about teaching and receive higher student evaluations of instruction (Bell & Mladenovic, 2007).
There are several steps involved in receiving a classroom observation.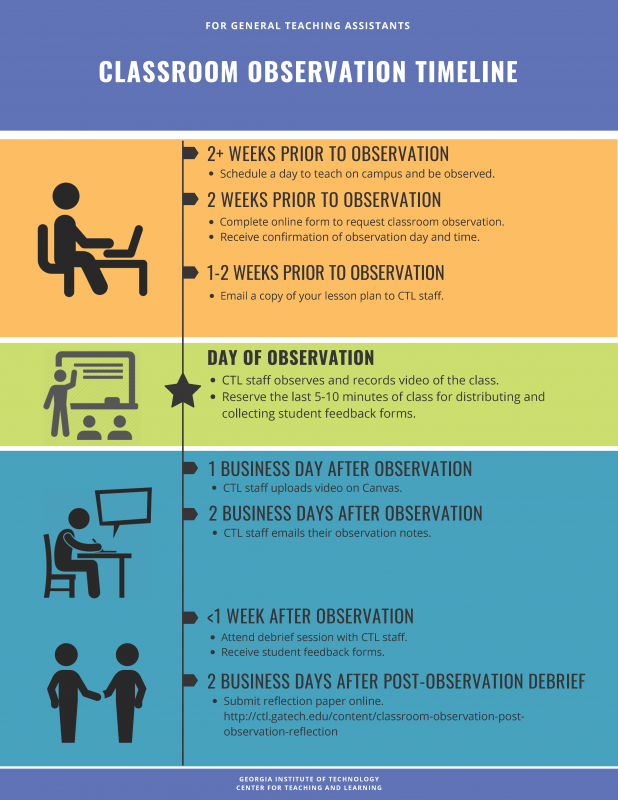 Request a classroom observation by filling out the classroom observation request form at least 2 weeks before you wish the observer to visit your class. After we receive your form, the CTL representative who will conduct your observation will establish pre-observation communication with you to introduce themselves and request a copy of your lesson plan for the class period to be observed.
At least 2 days before the observation, send your observer a lesson plan that includes: a) your learning goals for this lesson, b) how you will assess these learning goals, c) agenda/plan for the lesson including time allocations. If you need assistance writing learning goals or a lesson plan, request a separate consultation first.
The classroom observation is conducted on the pre-determined date. Your lesson will be video-recorded and not shared publicly. The observer will need 5 to 10 minutes at the end of your lesson to distribute and collect a student feedback form.
The observer will email you their initial feedback in writing in 24 to 48 hours. This feedback will consider the following areas: learning goals and assessment, instructional strategies, instructor presentation skills, and classroom climate. This written feedback will also include a summary of the feedback provided by your students.
In the post-observation meeting, you have the opportunity to further discuss the results of the observation. This meeting is optional for Tech to Teaching capstone participants and is required for all others. The post-observation meeting should be completed within a week of the classroom observation.
If you are not participating in the CTL capstone, submit the post-observation reflection form after your post-observation meeting. Reflection helps you close the loop on the observation process and set goals for your future teaching. This form should be completed within two weeks after the classroom observation. This form is not required if you are participating in the CTL capstone because you will reflect on your observation in class and in your observation analysis paper.
Bell, A. & Mladenovic, R. (2007). The Benefits of Peer Observation of Teaching for Tutor Development. Higher Education, 55(6), pp. 735–752., doi:10.1007/s10734-007-9093-1.