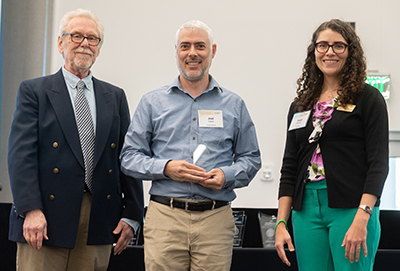 This award, offered in 2018-2019 for the first time, provides Georgia Tech with the opportunity to recognize full-time faculty of any rank for a strong commitment to engaged, online teaching and student success.  The recipient will receive $3,000.
This award replicates the USG's Board of Regents' Teaching Excellence Award for Online Teaching.  The campus winner will be Georgia Tech's nominee for the Regents' award in the upcoming year. 
Questions? Contact Carol Subiño Sullivan.
Timeline
Packets are due on Sunday, February 12, 2023 at 11:59pm.

Award recipients will be honored at a campus celebration, date and format to be determined by the institute committee.

Names and nomination packets of the award winners will be posted on the CTL Faculty Award website.

Names of winners will be added to the Teaching Awards wall located in the Clough Undergraduate Commons.
Eligibility Criteria
Current full-time faculty members of any rank are eligible for nomination if they teach a minimum of 12 credit hours of fully online instruction across the previous three consecutive semesters. (That is, not 12 credit hours in each of the three previous semesters, but a total of 12 credit hours in the three previous semesters.) Fully online instruction for this award is defined as "95% or more of the course must be delivered fully online."
Nomination Materials
The nomination packet (which should be no more than 20 pages) should include the following items:
A Table of Contents for the portfolio.  (NOTE: The TOC does not count toward the maximum of 20 pages.)
A nomination letter.
One or more letters of support from colleagues qualified to comment on the nominee's teaching and service. These letters should describe the nominee's teaching and why he or she is especially effective in advancing student learning. One should be from the department chair/program administrator.
A condensed curriculum vitae (2-3 pages, 1" margins, minimum 12-point font).
A reflective statement that summarizes the nominee's teaching and learning philosophy, strategies, and objectives (1-2 pages).
A brief summary of 2-3 innovative teaching artifacts or practices used in the online environment to promote student success.
One or more letters of support from recent and/or past students.
A well-organized set of documents that provide evidence of the nominee's online teaching and leadership excellence such as:

Data showing success of the nominee's students
Selected components of course syllabi
Handouts
Innovative methods of assessing student learning and achievement
Summaries of recent student evaluations
Peer evaluations
Student mentoring and advising
Peer mentoring
Service and scholarship relevant to promoting online education
All documents must be combined into a SINGLE pdf file and uploaded to Georgia Tech's awards portal: https://gatech.infoready4.com.
Packets that exceed 20 pages or do not meet the formatting requirements will not be accepted.
Review Process and Selection Criteria: 
The Center for Teaching and Learning establishes a committee consisting of previous Georgia Tech educational award winners to review the nomination packets and select the winner of this award. Each nominee's submission is reviewed in the context of departmental and institutional standards. Evaluation/endorsement of the nominee's exemplary performance is provided by the letter of nomination, by letters of colleagues qualified to comment on the nominee's excellence in online teaching, and by letters from students.
The award committee will look for persuasive evidence that the nominee:
Is strongly committed to quality online teaching and learning as evidenced by teaching, service and scholarly activities designed to advance the quality of online teaching and learning.
Uses effective and innovative online teaching practices that result in student engagement, student satisfaction, and effectiveness in achieving desired learning outcomes.
Demonstrates an extraordinary commitment to fostering the academic success of online students through the development of rapport with individual learners in and beyond the virtual classroom.
Examines methods of assessment of student learning to inform teaching practices and reshape online courses based on an on-going and data-driven process.
Utilizes interactive strategies to promote collaboration among students.
Exhibits a high level of instruction by using standards set by the USG such as Quality Matters.
---
Winner 2023
Joel Sokol, Professor, Industrial and Systems Engineering (Nomination Packet)
Joel Sokol is being recognized for his exceptional contributions as the founding director of the online M.S. in Analytics program. He believes in engaging online education for learners of all backgrounds, and has transformed thousands of students' lives through the program. Despite the large number of students he educates, Dr. Sokol is known for his personalized mentoring approach, which helps his students achieve their goals. He is a highly regarded expert in online education and has been quoted in several prestigious publications, including Forbes and NPR.
Past Winners
2022
Michael Evans, Chemistry and Biochemistry (Nomination Packet)
Dr. Michael Evans has always believed that instructional technology enhances undergraduate students' academic experience. Since 2018, Evans has used online instruction to increase student accountability and engagement through initiatives such as "Late Nite Labs," a virtual platform with instructional videos and pre-lab interactive content. When transitioning into remote emergency teaching in 2020, he drew from his past practices with online education while adding more practices and strategies to help his students. He incorporated platforms that allow students to review and practice chemistry problems, such as OpenOChem and Mechanisms. Additionally, he utilizes video chat and messaging platforms, such as Discord and Microsoft Teams, to encourage communication between students as well as student-instructor interaction.
2021
Pascal Hentenryck, Industrial and Systems Engineering (Nomination Packet)
When Georgia Tech courses shifted online due to the pandemic, Dr. Hentenryck was ready. Drawing from his experience teaching a graduate MOOC on Coursera, he reimagined ISYE 4134/ISYE 8813 Constraint Programming as a challenging and motivating online course. He organized the course into three components: high quality videos, interactive sessions and motivating assignments. For the videos, he produced about 90 videos to replace the lectures, each of which covers a single topic in less than 15 minutes. What makes the videos stand out is that he artfully designed lectures around a Star Wars theme (including music and costumes!).  The assignments link the problem solving in Star Wars to different applications in Constraint Programming. As fun as the Star Wars theme is, though, the projects are actually simplified versions of real case studies, and students implement them in a modeling language, mimicking the solving process that happens in real life. Finally, class time was replaced by interactive sessions where Hentenryck could ask questions to gauge the students' level of understanding, answer their questions, and guide students through their projects. Students commented on both how fun the class is and how much they learned: "I genuinely had a great time! Assignments were challenging and made me work hard, meanwhile the lectures were very good at explaining the needed material." In addition, Hentenryck created an online version of the Seth Bonder Camps for middle and high school students with no or little exposure to computer science and/or data science in their schools. He will continue to collaborate with Booker T. Washington High School, a historically black high school in Atlanta, to offer the camps and to equip teachers to teach the materials themselves.
2020
Michael Schatz, Professor, School of Physics (Nomination Packet)
Dr. Michael Schatz was one of the first Georgia Tech professors to teach a course with laboratory requirements in a massive open online course (MOOC) in 2018. In doing so, he demonstrated how the constraints of access to complex scientific equipment can be overcome to still give students a hands-on experience and permit them to apply the concepts they learn to the world around them. In addition to his teaching as an online professor, Dr. Schatz has run training workshops for the past ten years with Atlanta Public Schools and Fulton County Schools to help teachers develop more online materials for high school physics courses and opportunities for students interested in exploring the sciences. He cares deeply about his work, and his students attest to this, one saying, "Professor Schatz cares about his students and his work, and he wants physics to be a course we understand and learn to love."
2019
David Joyner, Online Professor of Computer Science (Nomination Packet)
Dr. David Joyner has taught over 7,000 students online, and consistently receives high praise for his innovative teaching. Zvi Galil, Dean of the College of Computing, states "For the past four years, David has been at the forefront of innovative online curriculum development, both as a teacher and as a researcher." Dr. Joyner encourages students to explore the computing world by proposing projects that connect to their interests.  His students watch video lessons, engage in online discussion of class content, and review each other's assignments. These activities allow students to interact with him and with each other, resulting in an experience that is personalized and engaging.