This award recognizes faculty who are improving the quality of education at Georgia Tech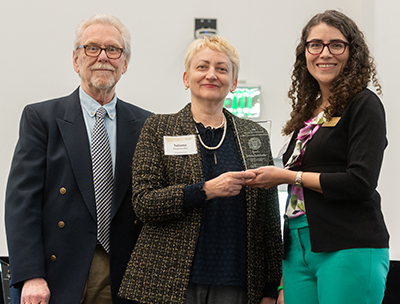 through pedagogical and curricular innovation. It is open to full-time faculty of any rank or a team of faculty members who have implemented an innovation in their course or departmental curriculum at the undergraduate or graduate level. Applicants must show evidence that the innovation has been evaluated and has improved student learning and/or the student experience. Preference will be given to innovations that have the potential to be replicated beyond a single classroom. The award recipient (whether an individual faculty member or a team) will receive $3,000, and up to one award will be given each year.
Questions? Contact Carol Subiño Sullivan
Timeline
Packets are due on Sunday, February 12, 2023 at 11:59pm.
Award recipients will be honored at a campus celebration, date and format to be determined by the institute committee.
Names and nomination packets of the award winners will be posted on the CTL Faculty Award website following the Faculty/Staff Honors Luncheon.
Names of winners will be added to the Teaching Awards wall located in the Clough Undergraduate Commons.

Eligibility Criteria
Any person or team with course or program responsibility for undergraduate or graduate education may apply for this award.  
The innovation may involve one course, a series of courses, or a departmental approach to improving the curriculum. The innovation must have been implemented for at least two presentations of a course or for two years of a curriculum.
Self-nominations are encouraged.
Nomination Materials
The nomination packet (which should be no more than 15 pages) should be submitted electronically as a PDF file through Georgia Tech's awards portal: https://gatech.infoready4.com/  It should include the following items:
Table of contents for the packet.
Description of the innovation, including the problem or student learning issue it addresses, the objectives of the innovation, the learning outcomes for the intended audience, and the approach taken.
Description of how the innovation has been evaluated, including documentation of how the objectives were met, the extent to which the learning outcomes were achieved, the benefits derived from the innovation, and how they were measured.
Description of the potential for others to adopt or adapt the innovation, including a discussion of how the innovation might be used in other settings and the resources required.
Application should be accompanied by five letters of support; these letters will not count toward the 15 page maximum.  These letters should be from the applicant's department chair, one colleague who has observed the innovation, and three students who have participated in the innovation. 
Review Process and Selection Criteria   
The Center for Teaching and Learning establishes a committee consisting of previous Georgia Tech educational award winners to review the nomination packets and select the winners of this award.  The nominee's submission of pedagogical and curricular innovations is reviewed in the context of departmental and institutional standards.  Evaluation/endorsement of the nominee's innovations is provided by letters from the department chair, a campus colleague, and students. Areas considered include:
Creative features of the innovation.
Impact of the innovation on student learning and/or the student experience.
Ability of the innovation to engage students in the learning process.
Transferability of the innovation and its potential for adoption in other courses.
Impact of the innovation on the quality of teaching and learning at Georgia Tech.
---
Winners 2023
Tatiana Rudchenko, Senior Lecturer, Scheller College of Business (Nomination Packet)
Dr. Tatiana Rudchenko redesigned Scheller College's MGT 2250 and MGT 2255 courses based on spreadsheet modeling, pioneering Canvas online video quizzes. She is a teacher of teachers, mentoring Ph.D. students, leading CTL workshops, and representing Georgia Tech at national teaching events and conferences. Tatiana received several awards, including the 2021 Brady Family Award for Faculty Teaching Excellence and Best Paper Award at the Distance Teaching Conference. Her innovative teaching strategies can enhance the learning experience for students in a wide range of courses at Georgia Tech.
Past Winners
2022
Fani Boukouvala, Martha Grover, A. J. Medford, J. Carson Meredith, and David Sholl - Chemical and Biomolecular Engineering (Nomination Packet)
Drs. Fani Boukouvala, Martha Grover, A.J. Medford, J. Carson Meredith, and David Sholl, the team behind the online Graduate Certificate in Data Science for the Chemical Industry have designed a robust, in-demand, and innovative program that bridges the gap in training between chemical engineering and computer science, with a focus on data science and machine learning. Vertically integrated teams of undergraduate, graduate, and industry students collaborate in the two core courses, making this a unique experience and establishing Tech as a thought-leader in this space.  Congratulations! 
2021
Andreas S. Bommarius & Mark R. Prausnitz – Chemical and Biomolecular Engineering (Nomination Packet)
When Dr. Bommarius and Dr. Prausnitz began developing their course ChBE/CHEM/BMED 4765/6765 D4: Drug Design, Development, and Delivery over 17 years ago, their goal was (and remains) to "teach science and engineering in context: in context with other fields of science; in context with business, economic, regulatory, and other societal influences; and in context with ethical principles that recognize science and engineering to be a human endeavor." They have succeeded in creating a course that allows students to apply fundamental principles of science and engineering to the pharmaceutical industry, gaining experience and insight into the complex mix of technical, social, and economic pressures that go into bringing a drug to market. A key component of this experience is an optional field trip to Puerto Rico where students visit major pharmaceutical plants. Bommarius and Prausnitz also developed ChBE 6800 Pharmaceutical Development, an intensive short course for advanced PhD students and postdocs who take a drug through the development process in consultation with industry experts. An alumnus of the course reflects: "Working with and hiring chemical engineers in entry level positions, it is evident that most chemical engineering curriculums are geared towards other industries, and I've found myself having to teach new hires about the pharmaceutical industry. It is now that I realize how fortunate I was to come into industry with that foundational knowledge already." 
Dima Nazzal – Industrial and Systems Engineering (Nomination Packet)
Dr. Nazzal created Cornerstone Design to better prepare students for senior capstone design where students complete an intensive team-based engineering design project working with a client.  Cornerstone Design prepares students on how to approach a complex, ill-defined problem and to communicate effectively with the client while managing the project professionally. Students use a database of past capstone projects to complete 4 projects. One past student shared how the course had provided them with a strong foundation for a real-world project: "In the end, thanks to your clear instructions, well-structured topics, and the 4 well-thought-out class projects, I was able to learn skills that prepared me well to handle a real-world project and much more. I am happy to report that our project exceeded the expectations of our client." Though the course was designed to address a particular need, several elements could be applicable to other courses at Georgia Tech, especially the use of past senior design projects; the gradual increase in independent work expectations through a project-based learning approach; and the Intermittent use of class time for work sessions with coaching from instructional staff. 
2020
Adjo Amekudzi-Kennedy, Professor and Associate Chair for Global Engineering Leadership and Entrepreneurship, School of Civil and Environmental Engineering (Nomination Packet)
For many years, Dr. Adjo Amekudzi-Kennedy has worked on developing Georgia Tech's engineering leadership education within the engineering curriculum, which helps increase student confidence and gives them a more holistic understanding of the engineering field. In addition to her role as the associate chair for Global Engineering Leadership and Entrepreneurship, she created the Global Engineering Leadership Minor (GELM), through which students develop into holistic and global leaders in engineering and access internship in their field of interest all around the world. The development of this minor has been incredibly helpful to her students' growth and success, with one former student stating, "The engineering field needs more professionals who are globally educated and experienced, and this program created by Dr. Kennedy is leading the way in producing graduates with those skills."
2019
CREATE-X faculty and staff team (Nomination Packet)
Prof. Raghupathy Sivakumar (ECE) – Director of CREATE-X, Prof. (Emeritus) Ray Vito (ME), Prof. Karthik Ramachandran (Business), Dr. Joyelle Harris (ECE) – Associate Director of CREATE-X, Prof. Keith McGreggor (CS), Prof. Craig Forest (ME) – Associate Director of CREATE-X, Dr. Olufisayo Omojokun (CS), Mr. Timothy Lee (BioE)
Learn, make, and launch; these are three central themes of the Create-X Initiative. CREATE-X is a program that teaches Georgia Tech undergraduate students how to realistically launch start-ups through classes taken for college credit. The courses increase students' comprehension of starting a company and give them entrepreneurial confidence. One student remarked, "CREATE-X creates a learning environment that students want to engage in, changes the way students learn and view the world, and allows students to learn about entrepreneurship firsthand by creating the next generation of Steve Jobs'." They've helped launch over 115 start-ups in the past five years, valued in total at over $150 million.
2018
David Joyner, College of Computing (Nomination Packet)
2017
Joe Le Doux, Biomedical Engineering (Nomination Packet)
2016
Karie D. Davis-Nozemack, Scheller College of Business (Nomination Packet)
2015
Tristan T. Utschig, assistant director, Office of Assessment (Nomination Packet)
2014
Amy R. Pritchett, Aerospace Engineering (Nomination Packet)
2013
Chrystal Followill, Georgia Tech Language Institute
Lauren P. Lukkarila, Georgia Tech Language Institute
Karen L. Peterson, Georgia Tech Language Institute
2012
Wendy C. Newstetter, Biomedical Engineering