The future faculty team in the Center for Teaching and Learning provides workshops and individual consultations to assist graduate students and postdoctoral scholars in their academic career development. The annual job search series features workshops on academic packet preparation in the summer and fall semesters followed by interviewing and job talk preparation in the spring term. 
What's Next?
Spring Future Faculty Job Search Academy Series: Preparing for the Interview and Job Talk
Friday, January 27, 9:00 a.m. - 11:30 a.m.
Klaus 1116 East & West
Participants in this workshop will learn how to ace the interview and deliver a dynamic job talk. Learn what to expect in first and second round academic interviews, how to make a positive impression on the interview committee, and how to structure and deliver a job talk that wows your audience.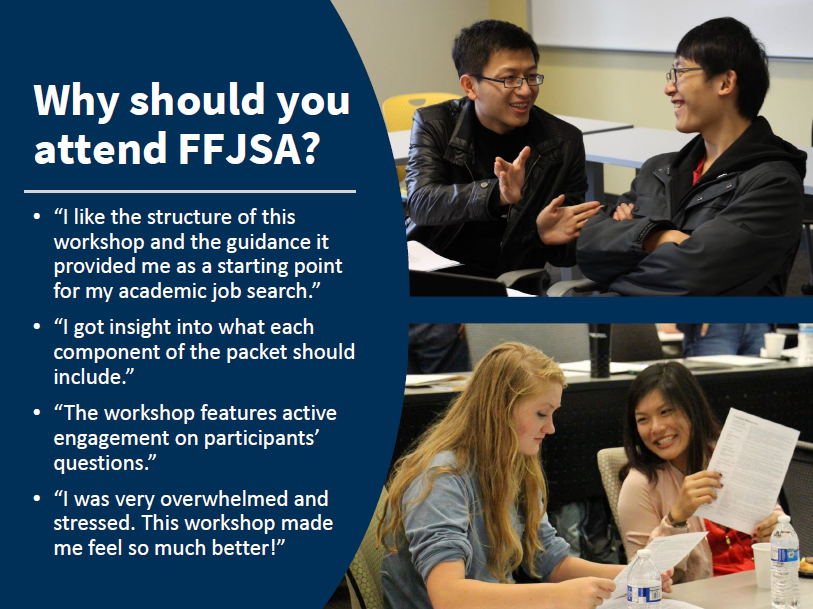 ---
What's Coming Up?
Future Faculty Job Search Academy: Preparing your Application Packet
To be offered in July 2023 and September 2023 (Dates TBD)
Participants in this three-week workshop series will plan their academic job search strategy and create drafts of the entire job search packet including CV, cover letter, teaching statement, research statement, and diversity statement. Participants will have access to asynchronous resources to use before and after the in-person workshops.