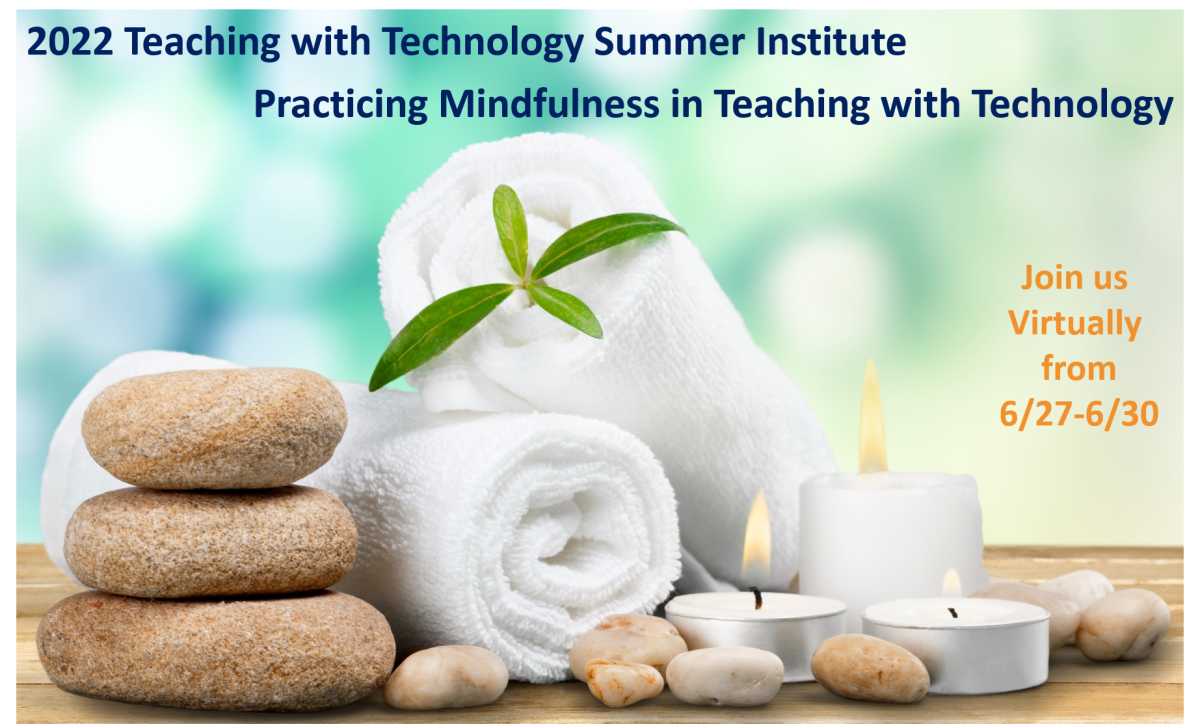 ---
The summer institute offers 4-days (6/27-6/30 from 9 am-noon) of virtual sessions, facilitated by the learning technology professionals from the Center for Teaching and Learning, the Georgia Tech Professional Education, the Office of Information Technology, and Center for 21st Century Universities. Each day is focused on understanding your relationship and usage of educational technologies and creating a mindful implementation plan for the next new tool you introduce to your course.
Click here to register for this year's Summer Institute
Please click each day below to view the description of what to expect: 
Day 1 (6/27) - A Journey of a Thousand Miles Begins with a Single Step
Location: Virtual via Zoom
We will focus on the initial steps necessary to ensure your next journey in Teaching with Technology has a good foundation and that you are ready to explore new educational technologies with a view for mindfulness.
During this day we will;
Explore the concept of mindfulness in teaching with technology
Re-examine our past experiences with educational technology
Begin to identify what we value in technology and how it aligns with our teaching
Discuss the various foundational concepts for integrating technology into the classroom
Day 2 (6/28) – Finding Your Technology Focus
Location: Virtual via Zoom
Invited campus-wide speakers will show off some of the latest tools available and ready for you to explore (such as Zoom, Perusall, Annoto, and more).  After viewing some of the latest technology to get excited about, we'll ask you to pick just 1 tool to focus on (either one of the featured tools or another you already want to explore) and give you time to join our speakers in small groups to ask questions and explore the technology of your choice in more detail.
During this day we will;
Learn about some of the newer tools available on campus
Explore in detail a technology you want to use in your classroom
Identify resources to learn more about the tool and aid in planning implementation of the technology into your next course
Day 3 (6/29) - Plan to Succeed
Location: Virtual via Zoom
Now that you've selected a new technology you want to add to your course, it's time to create a mindful implementation plan. During day 3 we will focus on talking through the various planning questions you should ask yourself when implementing a new tool to ensure meaningful tool usage and success.
During this day we will;
Start at the beginning with questions on what we need to have in place before the course begins
Discuss the various individuals/groups that using this tool will impact
Plan for challenges that may occur during the semester
Strategize how we will reflect on our experience and assess the implementation at the end of the semester
Day (6/30) - Share Your Plan and Build a Community
Location: Virtual via Zoom
On this final day, we will conclude by inviting our campus speakers back and by giving you an opportunity for you to share your plans with your peers and technology experts.  We will learn from each other and work to make our implementation plans the best they can be.  Afterwards, we'll hear some tips for continuing the conversation and give time for you to discuss staying in touch with those peers who may be exploring the same tools that you are.
During this day we will;
Present our plans to each other
Give and receive feedback on our plans
Form connections with peers and create last communities or networks around the new technology you plan on implementing
Click here to register for this year's Summer Institute
---
Questions?
 
Please send your inquiry to Vincent Spezzo.
 
Speakers for this Summer Institute Include:
During the institute you will get a chance to learn from and work with the following individuals from all over campus:
Summer Institute Facilitator and Primary Presenter: 
Vincent Spezzo, Assistant Director of Teaching and Learning Online at CTL
 
Invited Speakers and Campus Experts:
Lauren Barbeau, Assistant Director for Learning and Technology Initiatives at CTL
Jeonghyun (Jonna) Lee, Director of Research in Education Innovation at the Center for 21st Century Universities (C21U)
Melissa Lockhart, Digital Learning Support Specialist at GTPE
Simeon Payne, Digital Learning Support Specialist Senior, OIT-DLT
Lachelle Smith,  Digital Learning Support Specialist, OIT-DLT
Carol Subiño Sullivan, Assistant Director of Faculty Teaching and Learning Initiatives at CTL
Christopher Williams, Digital Learning Support Specialist, Senior at GTPE